How It Works
Simply Effortless Wedding Florals
by Painted Daisy Wedding Floral Studio
The Painted Daisy Simply Effortless Wedding Florals offers the best possible pricing for people who are looking for budget friendly wedding flowers and makes ordering beautiful fresh flowers for your event simple!
We have created several collections to maximize your budget or we can use your inspiration photo. We have made it truly simple to place your order. Just browse our collections and choose which one matches your event style or add your own phott and then fill out our order form. It's that easy!
If you want a more personalized experience, you can click on our pre wedding consultation form and we can schedule a consultation. (Do Not Fill Out Wedding Form)
Whatever your needs, we are happy to help with wedding flowers for your special day.
Bridal Bouquet $175 - A beautiful bouquet that is about 12-15 inches wide wrapped in ribbon.
Bridesmaid Bouquets $70 - A smaller version of the bridal bouquet, about 10-12 inches wide and ribbon wrapped. Can be repurposed as a centerpiece.
Corsage $26 - Florals and greenery on a gold wrist-band. Usually for mothers and grandmothers.
Boutonniere $18 - Small florals with greenery. Can be tied with a ribbon. Usually for groom, groomsmen, dads, grandfathers, officiants, and ring bearers.
Centerpieces
Round $65 - Floral arrangement for round table 5 x 5 clear cube
Farmhouse $85 - Floral arrangement in a compote vase for round table
Bud Vases $15 - Small vase floral arrangements with a bloom or two and greenery. Great for centerpieces or as accents in other areas of the reception. We recommend 3 for a round table and 5 for a farmhouse or rectangle table.
Table Greens $45 - Silver Dollar Eucalyptus bunches or Salal bunches or Bay Leaf bunches prepped and ready to lay on tables. One bunch of greenery will work for 1 rectangle table or 3 round tables with some to spare.
Welcome Table Vase $85 - Flowers in a vase to decorate your sign in book table.
Head Table Piece $135 - For the head table luncheon or dinner. Will be placed in front of the bride and groom. Can be repurposed to the buffet table or a mantle. Low centerpiece 24 inches long.
Civil Ceremony Chair Flowers $20 per chair - Flowers to compliment the wedding ready to tie to the chairs on the aisle of the ceremony.
Loose blooms $50 - Can be used for cake or hair flowers or to lay flat for detailed shots.
Bag of Rose petals $30 - 5 Petaled roses perfect for a flower girl, flower granny or flower man!
Arch piece $350 - Floral cage designed with zip ties ready to be attached to your arch. Arch pieces are about 3 feet tall. This can also be designed in a dish to sit on something like a whiskey barrel or to sit on the ground as an aisle statement piece or base of your arch or a mantle piece.
Collections
Fun and Flirty Lavender Love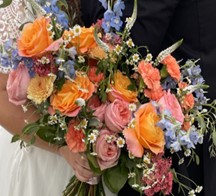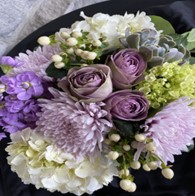 Royal Wedding Garden Wedding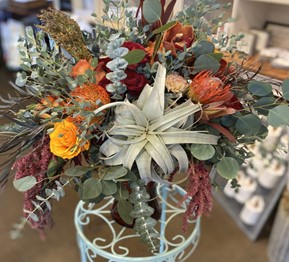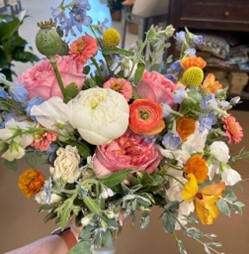 Black Tie Wedding Simply Whites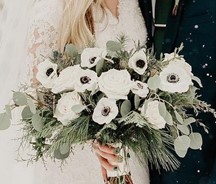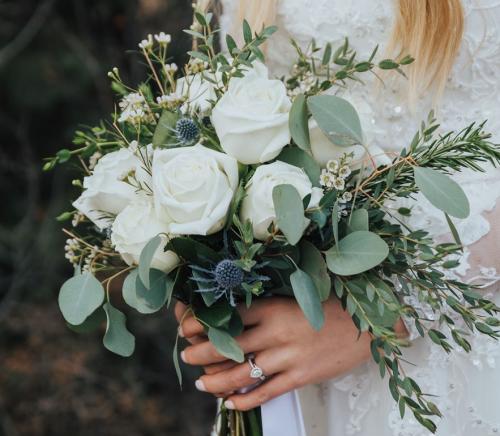 Bold Bride Fall Wedding Fling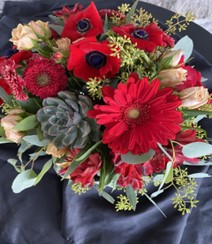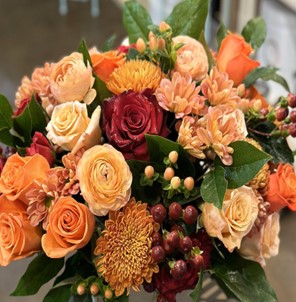 Ice Castle Wedding Tastefully Timeless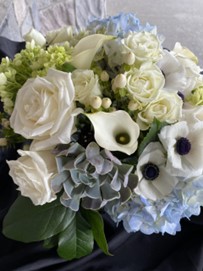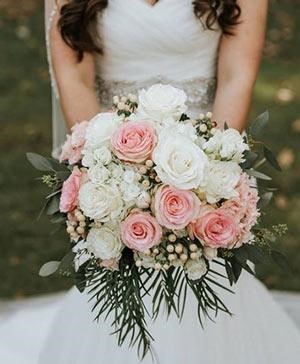 Bright Pink Day Blushing Bride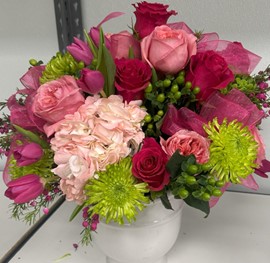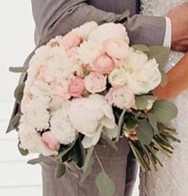 Peachy Keen Toffee Wedding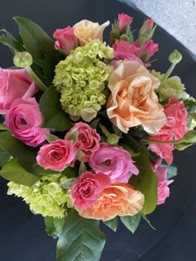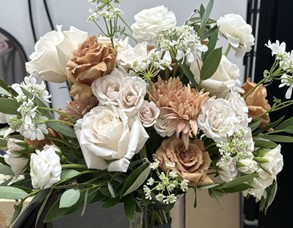 FAQ
​
Do you deliver and set up the florals?
You can pick up from our studio free of charge or you can have your florals delivered. Delivery is $25. In order to keep things as budget friendly as possible we do not set up the florals. Everything will come prepped and ready to set out! If you do need set up, we charge by the piece. This is suggested for arch pieces and other pieces that may be difficult to install. Set up fees will be given at the final pricing.
​
Is there an order minimum?
Not really. We are happy to help the smallest wedding of a bouquet and boutonniere to large weddings with arch pieces and the whole nine yards!
​
How far in advance do you need my order?
To ensure that we can get all of the product ordered, we need orders a minimum of 3 weeks prior to the delivery/pick up date. We do our best with any last minute wedding floral needs. Any additions, changes, or cancellations must be made at least 15 days prior to the wedding date. After the 15 day mark we will have already ordered the product and we will be unable to accommodate changes or give a refund. Refunds are subject to a $95 processing fee.
​
Can I customize the collection?
Simply Effortless Wedding Florals are designed to provide beautiful flowers at the best possible pricing. In order to do so, Simply Effortless Wedding collections can be customized and you will need to schedule a consultation. Simply Effortless Wedding Floral reserves the right to make substitutions to fresh product and vases based on availability, quality, and pricing. If you are looking for complete customization or full service florals, please call or text us at 801.763.8721.
​
​We look forward to creating florals for your event! If you have any questions, please do not hesitate to call or text us at 801.763.8721